Welcome to ITCO International
ITCO International primary functions are printing carton sealing tape, specialty tape, and die cutting adhesive or non adhesive products.  We also manufacture COOL Tape.  COOL stands for Country of Origin Labeling.  This is a printed tape that is used for bundling of produce such as green onions and asparagus.  It can also be put on other types of produce to signify that its organic.  We manufacturer this tape in North Carolina.  All materials used to create COOL Tape are certified for direct food contact.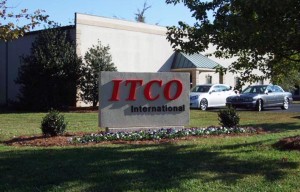 Since 1975, ITCO International has been serving the pressure sensitive tape markets. First as a distributor of specialty tapes, then we began printing and die cutting pressure sensitive products. In recent months we have added hot melt coating to our resume.
Our markets include the garment industry, department stores, electronic manufacturers, CD/DVD manufacturers, wholesale packaging suppliers and pharmaceuticals.
ITCO International has developed the only FDA direct food coated tape, printed or plain, made in the USA. This product is used by vegetable producers, among others. We call this product, COOL Tape, which stands for Country or Origin Labeling.
We can provide our customers tape dispensing equipment from very simple hand dispensers to fully automated tape sealers. We also have automatic equipment used for packaging vegetables, used with our COOL Tape.
Whatever your Specialty Tape or Dispensing Equipment application is, ITCO International can help you find the perfect solution.